Accommodations
Jackson Mountain Homes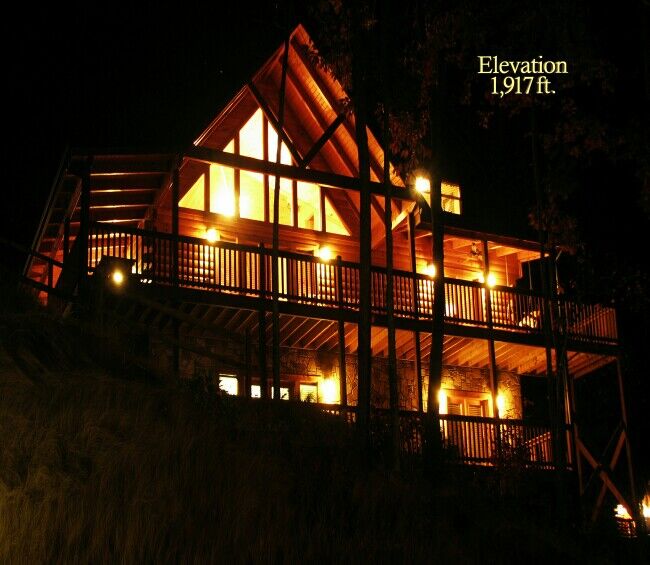 1662 East Pkwy, Gatlinburg, TN 37738, USA

Black Bear Falls Log Home Community
615 Black Bear Falls Way, Gatlinburg, TN 37738, USA

Travel and Transportation
Gatlinburg Mass Transit
88 River Rd # 101, Gatlinburg, TN 37738, USA

Trolley options for the downtown Gatlinburg area
Things to Do
Cooters Garage
cootets garage, Gatlinburg, TN 37738, USA

Dukes of Hazard memorabilia
Dollywood
2700 Dollywood Parks Blvd, Pigeon Forge, TN 37863, USA

The Fox and Parrot Tavern
1065 Glades Rd, Gatlinburg, TN 37738, USA

Hatfield & McCoy Dinner Feud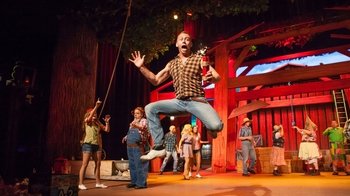 119 Music Road, Pigeon Forge, TN 37863
Join in with the longest running feud in history, trying to help the Hatfields and McCoys settle their differences in a mountain setting. Enjoy Granny's celebrated country-style cooking, featuring a varied menu of succulent meats and southern-style vegetables.
Come on down for a delicious country-style feud in the Smoky Mountains. Whether you're city-folk or country cuzins, the singing and dancing, mighty feats of strength, jaw-dropping stunts, and side-splitting comedy will git you good in this raucous celebration of common ground.
There's somethin' here for everyone, featuring country cookin' that no one can turn down. Granny's cookin' up a heap of fried chicken and country-pulled pork shoulder barbecue. Add smashed taters, creamy cole slaw, buttery corn on the cob, creamy vegetable soup, and a special dessert leading to a belt-loosening situation.
Get plum tickled in a family-friendly blending of action, excitement, and comedy in a shindig for one and all. Come hungry—it's all you can eat.
Sample menu includes:
Feudin' Fried Chick'n
Open Pit Pulled -to-Pieces Pork Barbeque
Southern Style Creamy Soup
Smashed Mashed Taters
Buttery Corn on the Cob
Ma's Hot Homemade Bread
No Tellin' What's In It Coleslaw
Granny's Famous Specialty Dessert
Adventureworks Climb Zip Swing Experience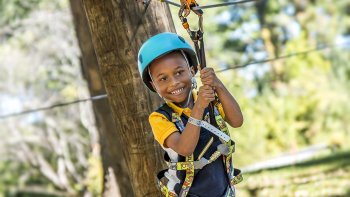 1004 Parkway, Sevierville, TN 37862
If you're on the hunt for fun things to do in Pigeon Forge/Sevierville, Climb Zip Swing is the perfect adventure for thrill-seekers of all ages. Located right on the Parkway, just minutes away from shopping and other attractions, this aerial adventure center covers over an acre of treetop canopy.
After a thorough safety training, choose your own path as you maneuver across dangling bridges, swinging grape vines, hanging cargo nets, ziplines, and much more. Once you get started, you can stick close to the tower and choose challenges to repeat, or venture out and try them all. The easier courses are closer to the ground at around 20 feet (6 m) high, and the most exciting routes are on the second level, as high as 40 feet (12 m).
Climb, zip, and swing your way through the trees during this adrenaline-pumping adventure in the forest. No matter your level of experience, friendly guides are always close by to show you the ropes and make sure you get the most of your experience. It's a high-flying good time you won't soon forget.
Smoky Mountain Llama Farm Visit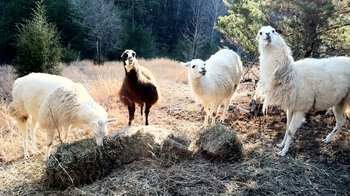 640 Padgett Mill Rd, Cosby, TN 37722
Just an hour outside the vibrant city of Knoxville is a quaint country experience full of delight: a visit to a Smoky Mountain llama farm. Bring some llama-approved treats and watch these silly creatures eat right out of your hands as you learn all about llama life at this Tennessee haven.
Each of these furry critters has been properly trained to be around people, and like their 2-legged friends, each has its own unique attitude. Come meet Taylee, the official welcome llama who loves to snuggle up to newcomers. There's also Woody, a goofy little creature who likes to hum and talk while he walks. And then there's Peanut the Alpaca, a cousin to the llamas, who's known for his perky personality. Meet these llamas, plus many more. Pet them, brush them, hug them, and even bring snacks to feed them. Graham crackers and oatmeal cookies are always crowd-pleasers with this crew, but if you bring bananas, they fall head-over-heels in llama love.
Set on the border of Great Smoky Mountain National Park, this farm also offers panoramic views of lush forests and wildflowers that bloom all year long. As you play with the llamas, take in the sight of mist-covered mountains while listening to nature sing its song through waterfalls and creeks.
DRYGO Zorbing Experience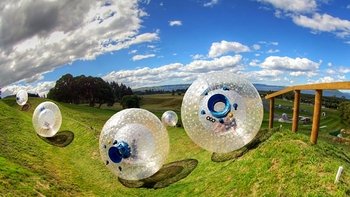 203 Sugar Hollow Road, Pigeon Forge, TN 37863
Go flying down a 1,000-foot (305-m) hill in a giant OGO bubble during this unique zorbing experience. Gather your friends and climb inside a hamster ball-like OGO, then zoom down a sloping course designed for maximum speed.
Arrive at the Outdoor Gravity Park and make your way up the 1,000-foot (305-m) hill to where your OGO awaits. Experts greet you at the top and get you introduced to zorbing, the sport of rolling downhill in a protective orb. Climb inside your OGO, an 11-foot (3-m) transparent sphere with shock-absorbent layers, with up to 2 other friends and get set for the ride of a lifetime.
With a push from the trained launchers, you're soon rolling down the Speed Demon course, which is designed to satisfy the need for speed. Slide around inside the OGO as it revolves around you, picking up speed, and relish the heart-pounding feeling of being a little out of control as you fly. At the end of your run, climb out of your OGO feeling exhilarated and refreshed.
Donut Friar
634 Parkway #15, Gatlinburg, TN 37738, USA

Hollywood Wax Museum Entertainment Center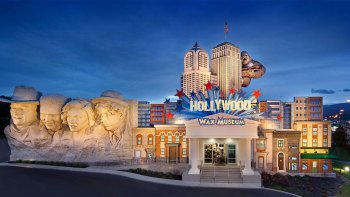 106 Showplace Blvd, Pigeon Forge, TN 37863
Snap photos with some of your favorite TV and movie stars, get lost a maze of mirrors, battle against evil, prevent a zombie outbreak, and enjoy the best entertainment value in town with admission to 4 attractions under 1 roof—the only roof where you see the 34,000-pound Great Ape of Pigeon Forge.
At the Hollywood Wax Museum get into the action with props and costumes and take pictures with your favorite celebrities. Learn little-known facts about their pets, pet peeves, and accomplishments. Find out, for example, that as a child, Salma Hayek had a pet tiger named Rambo that slept in her bedroom.
Make your way through 288 potential turns among hundreds of mirrored walls in Hannah's Maze of Mirrors to free Princess Hannah from Ugly Hetty's spell. This mirror adventure, crafted by one of the world's foremost maze designers, is all about gallantry and fun. Get lost in this modern fairy tale and find out if you're The Chosen One.
At Outbreak—Dread the Undead get a chance to save the world from a viral attack. Make your way through a biotech lab where an experiment gone wrong turned test subjects into throngs of zombies. Your challenge is to rid the world of Alpha Strain, or, at least, to make it out alive.
For a completely new kind of entertainment, join the battle against evil at the world's first 5-D adventure, Castle of Chaos. See, hear, feel, and smell the chaos as you attempt to discover the paranormal activity lurking inside. Be prepared to put on your 3-D glasses, pick up your gun, and shoot for the highest score.
Weather
Usual Weather in May - Gatlinburg, TN